At BP Tiling we specialise in tiling projects for homes and businesses. But that's not all. As well as a huge range of tiling services, we also provide waterproofing, under-floor heating, plastering, and even bathroom and wet-room installation.
This range of services coupled with our excellent workmanship means our business and residential clients recommend BP Tiling time and again.
If you would like us to provide a quote for your business or residential tiling project, simply complete our quote form or contact the BP Tiling team directly on 020 3514 0979 or at info@bptiling.co.uk.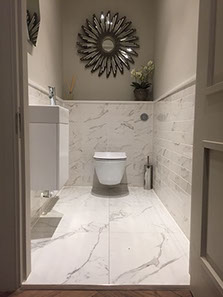 We want our customers to recommend us to others so we deliver a service that is exceptional. That means cutting-edge solutions, outstanding workmanship and unparalleled levels of customer satisfaction. It also means never forgetting that the client is the one in charge.
The BP Tiling team is managed by founder, Barry Perrott, an experienced tiler who personally oversees every project. Our team is made up of fully-trained professional tilers. In terms of tiling specialists, we can provide:
• Wall and floor tilers
• Granite tilers
• Natural stone tilers
• Marble tilers
• Travertine and Quartzite tilers
• Feature wall tilers
We operate throughout London, Surrey, Kent, Sussex and Berkshire.
BP Tiling was first set up by Barry Perrott over a decade ago and has since gone from strength to strength. In the beginning our focus was very much on working with homeowners, but throughout the years more and more of our work has been with businesses. While our roots are in tiling, we also offer a broad range of services including waterproofing, bathroom installation, underfloor heating and tiled feature walls.